Flatbed Truckload Market Price Index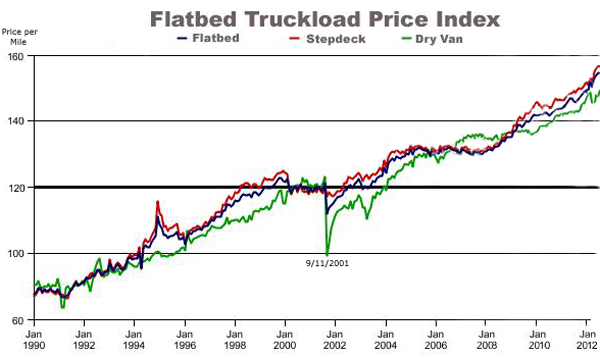 There are many known truckload pricing indexes throughout the industry showing average rates per mile charged on both the flatbed truckload and partial/LTL side of our business. Prior to the development of these pricing indexes, the transportation industry was characterized by a lack of accurate pricing information. This information is critical to all traffic managers to qualify freight quotes before making a carrier selection - especially if the truckload lane is an unknown, new lane, or new inbound load. Line Haul Freight encourages all traffic managers to complete a thorough due diligence on all flatbed carriers they choose to work with - from their safety rating, to their minimum age & experience requirement for their drivers, type of equipment the flatbed carrier uses, years in business, and financial stability - all key factors that make up a strong flatbed carrier.
The majority of indexes base their pricing on actual dated freight bills. The problem with using dated freight bills is just that - they are dated. Since Sept. 11, 2001, the transportation industry has changed significantly. Operating cost (both diesel fuel and insurance more than doubling) and asset capacity shortage due to industry consolidation and thousands of bankruptcies have caused the price per mile, hundred weight, and flat rates to fluctuate dramatically. Also, fuel surcharges that used to be 1% to 4% have reached levels over 12% today. Due to the pricing fluctuations and skyrocketing operating expenses, owner operators are selling their equipment and getting out of the business more and more each year.
Line Haul Freight provides their proprietary Flatbed Truckload Market Price Index for qualified traffic and shipping managers to make an educated decision in the truckload pricing category of making a flatbed carrier selection. How it works:
1.) Line Haul Freight uses a theoretical model that reflects the compilation of current pricing over the past 12 months which provides the most accurate assessment of actual flatbed rates (per mile) in the industry.
2.) Line Haul Freight analytical study of each major state-to-state lane provides the most accurate pricing matrix available specific to the flatbed industry and is updated quarterly.
3.) Line Haul Freight's Market Price Index enables traffic managers to compare their individual rates to current average rates thus decreasing the change of being overcharged.
4.) Line Haul Freight's Market Price Index also provides traffic managers a viable resource that provides current market pricing in unfamiliar and/or new traffic lanes.
The following is the flatbed truckload price index for 4Q09:
Flatbed TPI

TO: Zone 1

TO: Zone 2

TO: Zone 3

TO: Zone 4

TO: Zone 5

TO: Zone 6

TO: Zone 7

FROM: Zone 1

$1.65
($500-min.)

$1.55

$1.55

$1.27

$1.22

$1.24

$1.27

FROM: Zone 2

$1.60

$1.75
($550-min.)

$1.65

$1.32

$1.29

$1.32

$1.28

FROM: Zone 3

$1.50

$1.55

$1.85
($600-min.)

$1.22

$1.24

$1.23

$1.25

FROM: Zone 4

$1.52

$1.65

$1.63

$1.70
($425-min.)

$1.33

$1.39

$1.44

FROM: Zone 5

$1.54

$1.64

$1.66

$1.45

$1.70
($425-min.)

$1.39

$1.50

FROM: Zone 6

$1.46

$1.58

$1.55

$1.44

$1.34

$1.65
($425-min.)

$1.46

FROM: Zone 7

$1.41

$1.62

$1.56

$1.45

$1.37

$1.44

$1.85
($500-min.)
---
Zone 1: CA, OR, WA
Zone 2: AZ, CO, NM, NV, UT
Zone 3: ID, MT, ND, SD, WY
Zone 4: AR, *TX, OK, LA
Zone 5: IA, IL, IN, KY, KS, MI, MN, MO, NE, OH, WI
Zone 6: AL, **FL, GA, MS, NC, SC, TN
Zone 7: CT, DE, MA, ME, MD, NH, NJ, NY, PA, RI, VA, VT, WV

*TX - a lot of trucking companies rate Texas in two different zone - West Texas and East Texas. The dividing point ranges but is usually north from Laredo to San Antonio to Ft Worth Texas.
**FL - Florida is usually split between North Florida (points on and north of I-4) and South Florida (points south of I-4).
NOTE: Due to the nature of certain areas within certain states, the flatbed truckload price index does not take into account the extreme destinations that drive the price per mile up to isolated destinations. For example, Miami FL, south and west Texas, West Pennsylvania (more competitive rates) and East Pennsylvania (higher rates), and even Southern Illinios is usually more expensive than Northern Illinois. Trucking companies base their rates on the probability of a reload with the minimum amount of deadhead (empty miles to next loading point).
Another variable for traffic managers to consider is the competition for empty trucks to the cities you load to. The fewer miles the trucking companies have to go to reload along with the competition for empty trucks equates to higher outbound rates. For example - going to Chicago should yield a competitive lower rate since the Chicago area is easy to get a reload out of AND most Chicago shippers compete for available trucks which drive rates higher. The OPPOSITE is true for Miami. Going into Miami usually yields one of the higher rates in the flatbed industry since the probability of reload is very low for the trucking company. Miami can not support the number of inbound trucks with outbound loads which creates a very low rate per mile for those who do find loads.
Flatbed Source will be glad to complete a rate, lane, and mode analysis of your truckload traffic for a daily consulting fee. Completed by ITL Consulting Group and Freight Audit Services, LLC. For more information, please call 334.558.0860.